Is Dry Needling or Acupuncture Better For Me?
0 |
November 2, 2015
What is Dry Needling?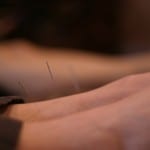 Dry needling stems from a practice used by physicians called trigger point injection. With trigger point injection, a specific point related to pain is located within a nearby muscle and injected, usually with saline or lidocaine. Practitioners of dry needling have removed the injection portion of this process – hence the name, "dry needling." It is believed that this process can cause a knotted muscle to release; however, it often produces mixed results. Unfortunately, dry needling only addresses the target area, and the majority of patients report pain during the experience.
How is Dry Needling Used?
As a newer practice, dry needling has been included as part of the scope of physical therapy practices,
Uncertain future of dry needling
. It is one of many tools in a physical therapist's toolbox to treat pain and muscular dysfunction. In NC, Physical Therapists can perform dry needling with 54 hours of classroom training. Needles are inserted into knotted muscles and stimulated with the hope that the muscle relaxes and the knot resolves.
What is Acupuncture?
Acupuncture
has been in use for more than 3,500 years and is a long, rich, time-honored tradition. Acupuncture requires a license to perform. To obtain a license, acupuncturists go through 3 years of classroom study, 1 year of observed clinical internship and a National Board Examination. It is a practice that interfaces with the body via specific acupuncture points to promote holistic health. Acupuncture assists with balancing the energy of the body by treating its meridians (energy channels), which link to the various organs and systems of the body. The amount, quality and flow of energy is adjusted accordingly depending upon the issue to restore balance, harmony and total health throughout the body. Illness or dis-ease is effectively treated at its roots to clear the blocked energy in the body and relieve the pain associated with it.
What's the Difference Between Acupuncture and Dry Needling?
Unlike dry-needling,
acupuncture
is not about just treating a localized pain but rather treats the pain as well as the energetic imbalance that allowed it to happen in the first place. Little to no pain is reported during acupuncture – you may feel sensations, but acupuncture should never cause discomfort. In fact, most clients relax so much that they are able to fall asleep during the treatment. Acupuncture just may be the only medical procedure that includes a nap! By comparison, many recipients of dry needling report pain during the process. Also, with acupuncture, the needle is most often not placed where the pain is located; instead, the points chosen based on their inherent ability to not only relieve pain but restore balance.  Every part of the body has other parts that correlate and mirror it, so we work with the channels to find the best solution for optimal health and energy flow.
---
We recommend that if you are going to allow someone to put an acupuncture needle into your body, that you require they be licensed and board certified as an acupuncturist.
We invite you to call us to set up an appointment to see how acupuncture can help in a pain free way: 704.483.5441.