Therapeutic Massage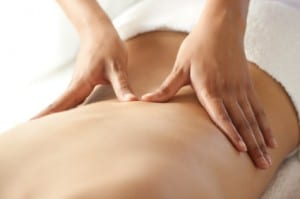 Karen offers multiple styles of massage therapy to fit your specific needs:
Neuromuscular
Deep tissue
Swedish
CranioSacral
Lymphatic drainage
Neuromuscular Massage Therapy and Sports Massage
For pain relief, injury rehabilitation, stiffness and lost range of motion we offer Neuromuscular Massage Therapy and Sports Massage. These styles work deeply into the body's soft tissues to access the root of pain and dysfunction correct it. While these styles work deeply they are not necessarily painful. When performed by a skilled therapist, Neruomuscular and Sports massage can be deeply relaxing as well as pain relieving.
Swedish Massage Therapy
For stress relief and relaxation we offer Swedish Massage Therapy. While still pain relieving, Swedish Massage is also deeply relaxing and is excellent at freeing the body of the stress accumulated in the muscles as well as increasing circulation, promoting healing and offering sound sleep.
CranioSacral Therapy (CST)
CranioSacral Therapy (CST) is a gentle, hands-on approach that releases tensions deep in the body to relieve pain and dysfunction and improve whole-body health and performance. It was pioneered and developed by Osteopathic Physician John E. Upledger after years of clinical testing and research at Michigan State University where he served as professor of biomechanics. Using a soft touch which is generally no greater than the weight of a nickel, practitioners release restrictions in the soft tissues that surround the central nervous system. CST is increasingly used as a preventive health measure for its ability to bolster resistance to disease, and it is effective for a wide range of medical problems associated with pain and dysfunction. Therapeutic Massage and CST combine very well with acupuncture and herbal therapies and can together can be used to great effect. * Karen is an independent contractor and practices massage therapy in the Acupuncture and Healing Arts building along side AcuCare Clinic.
Click here to meet our massage therapist.
To schedule an appointment, or to ask questions, please call 704.608.5136. Or, 
click here
 to view our FAQ page.