To download, print and fill out all new patient forms, please click each of the buttons below. Please bring all forms to your first visit.
Download the Confidential Health History Form
Download the AcuCare Privacy Notice
First Appointment/Intake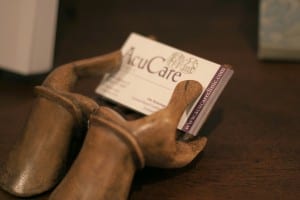 Your first acupuncture appointment and treatment will last about two hours. After going over all of your new patient paperwork we will take you through a full health history intake. This intake will be very thorough and quite detailed. We will ask about all aspects of your health both current and past, often times focusing on issues that you may not have considered were related to your current ailment. At AcuCare Clinic we strive to know your total health picture, not just what hurts today. This is why our interview covers all of your body's systems. This helps us provide you with the best possible treatment. During and after the interview you will have plenty of time to ask any questions that you may have that come up along the way so don't hesitate to ask anything. Your comfort and confidence is paramount to us.
First Treatment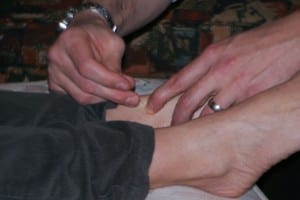 After the intake portion of the appointment, you will receive your first treatment. This will take about 30 minutes once the needles are placed. Once all needles have been inserted and we confirm you are comfortable, you will be left alone to relax quietly. It may seem a bit strange at first to relax with needles in your skin, but the overwhelming majority of patients fall into a sound sleep and wake up refreshed and feeling better when the treatment is finshed.
Subsequent Treatments
Subsequent treatments will typically take about half the time of the first treatment session. They will consist of a short interview to determine how your health is progressing and to address any questions or new issues that may have arisen. Then you will receive a similar acupuncture treatment to your first session.
Preparing for your visits
Here are some things to keep in mind when coming for your first treatment that will help the process go smoother.
Wear loose clothing and be prepared to spend two hours at the clinic the first time.

Be sure to eat something, even if it is a small amount, before your treatment.
If you have any questions please visit the
Frequently Asked Questions
page of our site, email us at
info@acucareclinic.com
 or call 704.483.5441.